Venue
Kampung Lingkubang, Kota Kinabalu
The event takes runners from the native villages at the foothills on the western side of Mount Kinabalu and around the base of Mount Kinabalu towards the Southern side of the foothills of Mount Kinabalu and then on to the South-Eastern ridges of Mount Kinabalu to finish in the village of Kundasang.
The routes are beautiful but challenging and do give runners an opportunity to pass through remote, beautiful villages, across ancient hanging bridges and across raging rivers and through plantations and on village trails from the 1800's that used to be a part of the old buffalo trading routes linking villagers from Kota Belud to Bundu Tuhan.
The TMBT 2017 100k & 50k categories are UTMB qualification races for UTMB 2018.
Points on offer:
100k-3 points/5 new points
50k-1 points/3 new points
30k-0 points/2 new points
Terms of registration
1) No extensions to registration time periods or third party registrations are allowed.
2) Failure to register in person before the 15th September 2017, 9.00pm deadline means the runner does not participate in the race.
3) All runners must sign the waiver and indemnity forms and must produce legal ID or a passport and must be present in person.
4) All runners must also bring with them 1 photocopy of their MYKad or Passport for our records please in A4 size in color or black and white that is clear and readable and photo image of the individual clear enough to see.
5) All 30k, 50k and 100k runners must also produce their mandatory kit for inspection before they will be authorized to be officially registered to compete in the TMBT event.
6) Failure to meet mandatory kit requirements may result in a runner being denied entry to compete in the event.
7) All 100k runners must deposit their 'drop bags' with the organizers at the START line of the event with official bag tag attached. All other categories should also deposit their finish bags at the START line with their bag tags attached. Bags should weigh no more than 5kg and should be in the form of a backpack that is sealed or zipped.
8) Saturday, 16th September 2017
Optional Bus Transfers from either Mega D Aru Hotel/Crown Borneo Hotel, Tanjung Aru or Sutera Harbour Resorts to Start line.
3.30am Departure of 100k & 50k buses to START venue
5.00am Departure of 12k & 30k buses to START venue
Optional Bus Drop-Off points after the event at either Downtown Kota Kinabalu (opposite Hyatt Regency Kinabalu), Sutera Harbour Resort or Mega D Aru Hotel/Crown Borneo Hotel, Tanjung Aru
Official Finish locations
All 100k runners finish at Mount Kinabalu Heritage Resort in Kundasang.
All 50k runners finish at the Village of Nabalu in between Kundasang and Tuaran along the Tamparuli-Ranau highway.
All 30k runners finish at the village of Nabalu in between Kundasang and Tuaran along the Tamparuli-Ranau highway.
All 12k runners finish at the village of Tambatuan in the Kota Belud district.
The Route
The race course does not involve a summit climb for safety reasons nor does it involve any sections leading up towards the summit of Mount Kinabalu.
Expect hard, compact trails on dry days and wet, extremely sticky type mud on wet day's that Borneo is famous for. Lots of rolling hills, and long climbs up to villages and back down hill and across hanging bridges and rivers as well as long climbs up and past pineapple plantations and crops with some road sections including a short 3km hike along the main highway to cross over to the next stage of the race and a different valley.
Runners could potentially be exposed to extreme heat of temperatures of up to 34-38 degrees Celsius on a typically hot day or cold temperatures of 12-18 degrees Celsius during wet and windy conditions as runners will be above sea level depending on which section of the race course runners are on at the time.
Runners will be independent and need to be experienced enough to handle difficult situations in difficult terrain under possibly difficult weather conditions and acting at all times in a responsible and sensible manner.
To view the TMBT 2016 race course and to go through the race course profiles/cut off times (same routes as the TMBT 2015 race course), please visit: http://www.borneoultra.com/tmbt/route-profile
Altitude Gains:
The expected altitude gain for the 100km route is expected to be at least 6000 meters.
The expected altitude gain for the 50km route is expected to be at least 3500 meters.
General cut off times:
100k-30 hours
50k-15 hours
30k-10 hours
12k-5 hours
Mandatory Kit List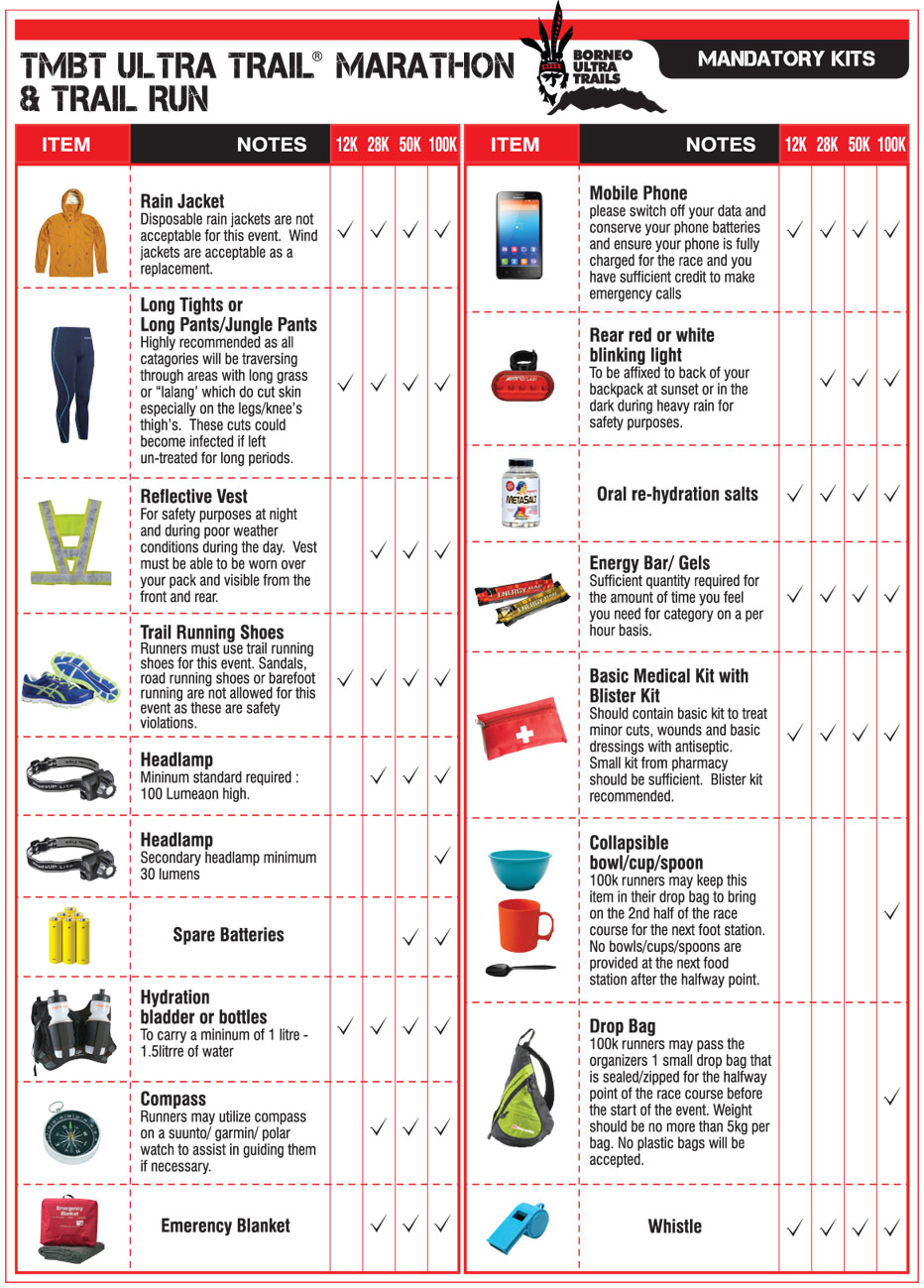 Route Profile
100KM

50KM


30KM and 12KM